A Comprehensive Selection of Pressure Gauges
Pressure gauges are an integral part of applications throughout numerous industries. They are most commonly used in Oil & Gas, Medical, and general Manufacturing, as well as Food & Beverage and HVAC. The number of uses for pressure instruments within these industries is practically endless. Monitoring pressure, viewing pressure adjustments, level monitoring, and, with certain media, temperature monitoring, are just a few of the ways pressure instruments are used.
When purchasing gauges, you want to be sure that the company you buy from offers quality instruments at a fair price. You also want to be certain that they have the specific type of gauge you need for your particular application. That's why ESP's PIC brand is the perfect choice.
We carry pressure gauges in many sizes and configurations, made from a variety of materials, and featuring various connection types to fulfill your process and safety requirements. Pressure gauges can show a variety of pressure types, including vacuum, differential, gauge, and absolute, which is why it is so important to find the right one for your application.
If you have any questions about our gauge selection, don't hesitate to reach out. Our customer service team will show you why so many customers turn to us for all of their pressure instrument needs. For further details, read our article explaining how to select a pressure gauge.
Find the Valve You Need With Ease
The majority of mechanical pressure gauges are based on the use of a Bourdon tube, which is a type of metal tube bent to a specific curve, which allows it to expand in a repeatable, predictable fashion. The tube expands or contracts as the pressure increases or decreases, pushing or pulling to move a pointer. The pointer, in turn, shows the user the amount of pressure being exerted in the process.
Other sensing elements commonly found within pressure gauges include diaphragms (thin films that move up or down with pressure), capsules (metal pockets that expand or contract with pressure), and spiral tubes (a type of coiled tube that works similarly to a Bourdon tube).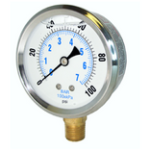 Our PRO 200 series of pressure gauges feature a stainless steel case with copper alloy internals, designed as one piece. The standard configuration is a 2.5″, glycerin-filled, PSI/Bar dual scale. This instrument is durable and accurate, offering excellent value for your investment. Similar products are offered in 1.5″ to 4″ designs.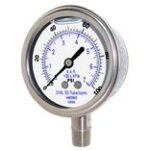 Our 300 series gauges feature all stainless, welded case to stem designs in sizes ranging from 1.5″ to 10″. These units come dry but fillable or filled with glycerin or silicone. The 300 series cases feature a crimped design or removable bezel. They are resistant to vibration and chemical damage.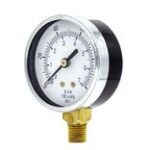 Our 100 series gauge comes in a one-piece design, with a black steel case and copper alloy internals. It is available in sizes ranging from 1.5″ to 4″. This is the most economic choice among our pressure gauge offerings.