Thermowells are protective sleeves for temperature instruments designed to isolate the instrument from the process media and associated pressure. Once installed, Thermowells allow for easy removal and re-installation of Thermometers, Thermocouples, or RTD's without having to shut down the process. Thermowells from PIC gauges are available in many configurations, including threaded, flanged, and sanitary options, in carbon steel, copper alloy, stainless steel and many exotic metals. All PIC Gauges Thermowells feature one piece solid barstock shaft construction. A wide variety of standard configurations are in stock available for immediate shipment.
The First Choice in Thermowells
Your temperature instruments are an essential part of your operation. No matter the industry you operate in, you need your thermometers, thermocouples, and Resistance Temperature Detectors (RTDs), to provide accurate measurements and remain in working condition at all times. You also want to protect your investment in the instruments that you have purchased.
It is essential to use thermowells to protect your temperature-measuring instruments. Thermowells are protective sleeves designed to isolate temperature instruments from process media, preventing damage caused by the pressure associated with that media. After installing a thermowell, you can remove and reinstall thermometers, RTDs, and thermocouples without shutting down the process.
Additionally, thermowells can be used as ports for pulling liquid samples from a pipe, or as ports for portable thermometers, which can be closed as needed.
When purchasing thermowells, it is essential to choose a manufacturer you can rely on. ESP's PIC brand offers a selection of high-quality thermowells designed for a wide range of applications across various industries.
Our extensive thermowell selection includes threaded, flanged, and sanitary options. We offer thermowells in a broad range of materials, such as stainless steel, copper alloy, carbon steel, and many types of exotic metals. All of our thermowells feature one-piece solid barstock shaft construction.
With a large variety of configurations available for immediate shipment, we make it easy to find exactly what you need. When selecting a thermowell, consider the medium used in each application, the type of connection your system requires, and the dimensions of the thermometer or probe you plan to insert.
Common connection types to consider include:
Flanged
Weld-In
Threaded
Threaded Lagging
Socket Weld
Van Stone
After choosing the right connection type, pick the material that's right for the application at hand. Common materials used include the following:
Brass
Carbon Steel
304 Stainless Steel
316 Stainless Steel
Our customers use a range of styles across various applications. Here are some examples: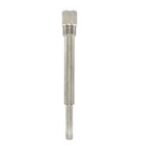 The stepped style features the standard thermowell appearance. It is similar to a straight thermowell, but its smaller tip diameter allows for quicker response time.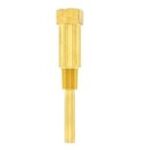 This style is used when the thermowell is to be inserted into an insulated vessel or pipe.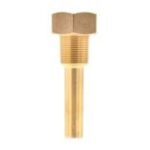 Typically used only when specified, this style should be implemented only in applications with low pressure and temperatures.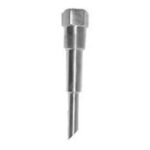 This style features a tip that is cut at an angle, allowing the probe to enter the medium to collect samples.